Kitchen and Bathroom Remodeling in Lahaina, HI
Looking to remodel your Maui kitchen or bathroom? Lei Flooring America is the areas leading
KIBA showroom in Lahaina, HI for all your flooring, countertop, cabinets, window treatments, and design needs. We offer comprehensive kitchen and bathroom renovation services for any project—big or small. Our friendly sales experts will listen to your needs and goals to help you craft and coordinate a beautiful space you'll love for years to come. Visit us today to get started!
Kitchen and Bathroom Design Made Easy
Lei Flooring America has the design expertise to completely transform the look and feel of any room. We pay attention to detail with not only design elements but also additional functions to make your daily life easier. From picking hardware and lighting to cabinets and countertops, we can create your dream kitchen or bathroom, nomatter how big or small.
Bathroom Remodeling
Most homeowners spend a significant amount of time in the bathroom getting ready for the day, winding down for the day, and everything in between. Creating a calming, organized bathroom will help you feel more relaxed and enjoy your daily bathroom routines. With everything from custom tile showers to bathroom vanities, you can create a look you'll love while adding exceptional performance. Whether you want a cool-toned earthy sanctuary, a modern minimalist design, or a classic look, discover the limitless possibilities at our local bathroom remodeling store.
Kitchen Remodeling
Kitchens are a versatile space, often a hub of activity at the heart of any home. If your kitchen is feeling rather cramped or outdated, even a few simple refreshes can make your kitchen feel larger and more cohesive. We help clients completely overhaul their kitchens, or simply update the cabinetry. Depending on your needs and budget, we'll find a solution that meets your goals. Whether you want a whimsical cottagecore design or an open bright and airy style, we have the products and expertise to make it happen.
Your Local Cabinet Store
Kitchens and bathrooms require a significant amount of storage space, and at our local store, we ensure you get ample storage in style. Not only do cabinets offer an essential function, they are a big part of your interior design. Choosing the right cabinet style, color, and layout is important to enhance the look and feel of your kitchen or bathroom. Our design specialists will explain the different types of cabinets and help you choose the best option for your project. If you are looking for more storage, ask our specialists about closet systems for your kitchen or bathroom in addition to custom cabinetry.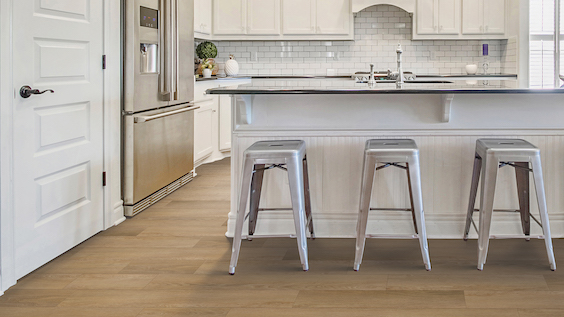 Find Countertops Fit to Your Space
Countertops serve as essential workspaces within your home. Whether you're preparing meals, tackling projects, or using countertops for added storage and decoration, investing in a high-quality countertop is crucial for your kitchen and bathroom. If you're looking to create a beautiful new countertop design, our team of KIBA specialists is here to help. We offer a variety of countertop materials, including marble, granite, stone, tile, and more. Depending on your project and budget, we'll assist you in choosing a countertop design that enhances the efficiency and durability of your space.
Durable Kitchen and Bathroom Flooring
Flooring ties together the overall flow of a space. Flooring, especially in kitchens and bathrooms must be durable with reliable resistance to moisture and spills. At Lei Flooring America, we offer tile, engineered wood, luxury vinyl, and laminate floors that are built for maximum performance in heavily used areas. You can get the gorgeous look of wood or tile that matches your budget and design goals. Get the classic look of mahogany, the elegant appearance of white oak, the calming appeal of slate, and so much more when you visit our local flooring store. Ask our flooring team about waterproof flooring options.
Installations Made Easy with Our Local Lahaina Installers
Our local contractors are experienced in kitchen and bathroom remodeling, handling every step of the process for a stress-free experience. We listen to your needs a formulate a renovation plan to ensure a timely and organized installation plan for each aspect of your kitchen or bathroom renovation. Our contractors are experienced in every aspect of bathroom and kitchen remodeling, including but not limited to:
Flooring Installations
Countertop Installtions
Cabinet Installations
Plumbing & Electrical
Lighting Installations
Whether you are simply installing a new countertop or completely remodeling your entire bathroom, count on us deliver quality work every time.
Contact us today to start your kitchen or bathroom renovation! We proudly serve Lahaina, HI, and the surrounding Maui communities.