Luxury Vinyl Flooring in Lahaina, HI
Add durability and lasting value to any room in your home by upgrading to luxury vinyl flooring from Lei Flooring America. Our showroom in Lahaina, HI, offers a wide variety of luxury vinyl tile, luxury vinyl plank, and other vinyl flooring options. Whether you're updating outdated floors in your kitchen or installing stylish new luxury vinyl plank flooring in your dining room, we have something that suits every style preference. No matter what room you are looking to update, luxury vinyl floors are stylish, durable, and long-lasting flooring that is also affordable. As your local flooring experts, we are here to help you find the best flooring for your home. Our flooring experts can help you navigate our selection and find a floor that suits your home decor and personal style. We have luxury vinyl flooring for any lifestyle, including homes with pets!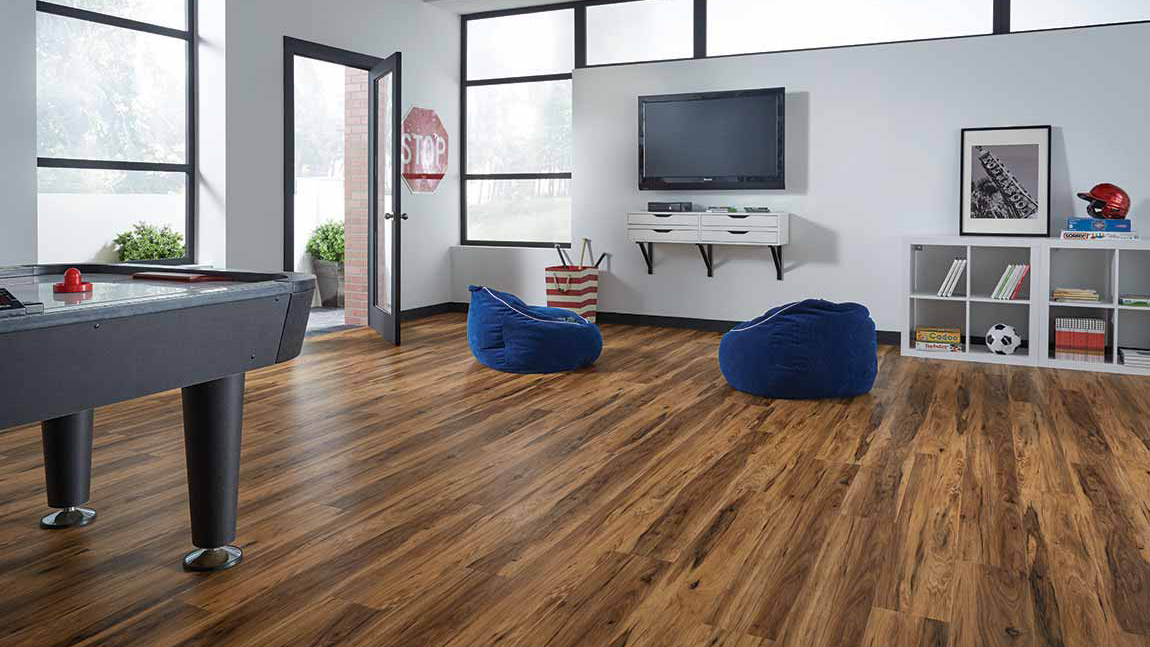 What Types of Luxury Vinyl Are There?
There are two types of luxury vinyl, luxury vinyl plank (LVP) and luxury vinyl tile (LVT). These high-performance materials are exceptionally resilient due to their layered compositions. Either vinyl flooring type is made from several wear layers beneath a resistant vinyl surface designed to stand up strong to even the heaviest foot traffic. Learn more about our luxury vinyl selection:
LVP

is a budget-friendly hardwood alternative made using advanced photographic technology that results in beautiful decorative layers with

authentic-looking

grain and whirl patterns that replicate your favorite types of hardwood.

LVT

mimics the look of porcelain, ceramic, and natural stone tile. Still, it is a comfier alternative that is

softer underfoot

and is ideal for bathrooms, kitchens, and other high-moisture areas of your home.
Why Should I Choose Luxury Vinyl Flooring?
There are so many reasons why you should choose luxury vinyl. Not only is it beautiful, but it is durable, too. We know that the quality of your floors matters. That's why we only carry luxury vinyl from the best brands in the industry, including Core Elements, Galvanite, Genua, Baroque Flooring, Karndean, and many more. By only carrying top-quality luxury vinyl, we can provide you with a flooring solution with many benefits. Learn more about our vinyl selection's many benefits:
Luxury vinyl is made from

waterproof

materials that can

withstand moisture and standing water

, making it ideal for kitchens, basements, and bathrooms.

Luxury vinyl is a

tough surface

that can withstand even the heaviest foot traffic and roughest wear and tear. It typically comes with a protective layer

resistant to scratching, scuffing, chipping, and cracking

.

It's

easy to keep clean,

and maintenance won't take much of your time

Vinyl is

built to last

and can withstand heavy foot traffic, high amounts of pressure, and can be used throughout your home.
How Do I Keep My New Luxury Vinyl Floors Clean?
Our luxury vinyl flooring is strong enough to withstand spilling, wear and tear, accidents, and more. This makes it the perfect flooring for active families with pets and kids. Luxury vinyl is a waterproof flooring solution that can resist high-moisture environments like bathrooms and laundry rooms. Before using a cleaning product that may contain harsh chemicals that could damage your new luxury vinyl floors, we recommend reviewing your new floor's warranty. Spills and liquids do not match our luxury vinyl, making no-stress cleaning and maintenance. Regular cleaning can be performed by:
Regular sweeping or vacuuming to remove any dust and debris from the floor.

Weekly wet mopping for a deeper clean.

Where Can I Install Luxury Vinyl?
Perhaps one of the best parts of choosing a luxury vinyl floor is that it can be installed anywhere, commercially and residentially. Our waterproof vinyl planks are designed explicitly to lock out moisture, preventing spills from damaging your subfloor. Now, you can install a genuine wood-look in your kitchen or an oak-look floor in your bathroom without worrying about incurring water damage.
Professional Luxury Vinyl Installation
Once you've chosen your new floors, schedule luxury vinyl flooring installation with our team of professional and dedicated installers. Our experienced team will remove your old flooring, properly prepare the subfloor, and install your new flooring, so it looks and functions great for many years. Installing luxury vinyl yourself could result in unevenly placed tiles or planks, peeling vinyl layers, or even cracked vinyl leading to moisture seeping through and causing water damage to your subfloor. Our team displays a proven track record of success, backed by some of the best warranties in the industry, including our Ultimate Confidence Guarantee. Should you find yourself unhappy with our work or your new floor, give us a call within 30 days of your installation, and we will gladly replace your floors with a similar model at no additional charge to you.


Contact us to learn more about our luxury vinyl selection and installation services. We proudly serve customers in Lahaina, HI, and the surrounding communities.