Hardwood Flooring in Lahaina, HI
Turn your home into an elegant beach oasis with strong hardwood flooring at Lei Flooring America. We offer high-quality solid hardwood and engineered hardwood products, along with expert installation services. With your success at the forefront of our minds, our team takes the time to listen to your functional needs, style preferences, and budget to pick out your ideal hardwood flooring. We are with you every step of the way! Visit our Lahaina, Hawaii, showroom today to view our hardwood selections and discuss your project with our friendly flooring professionals.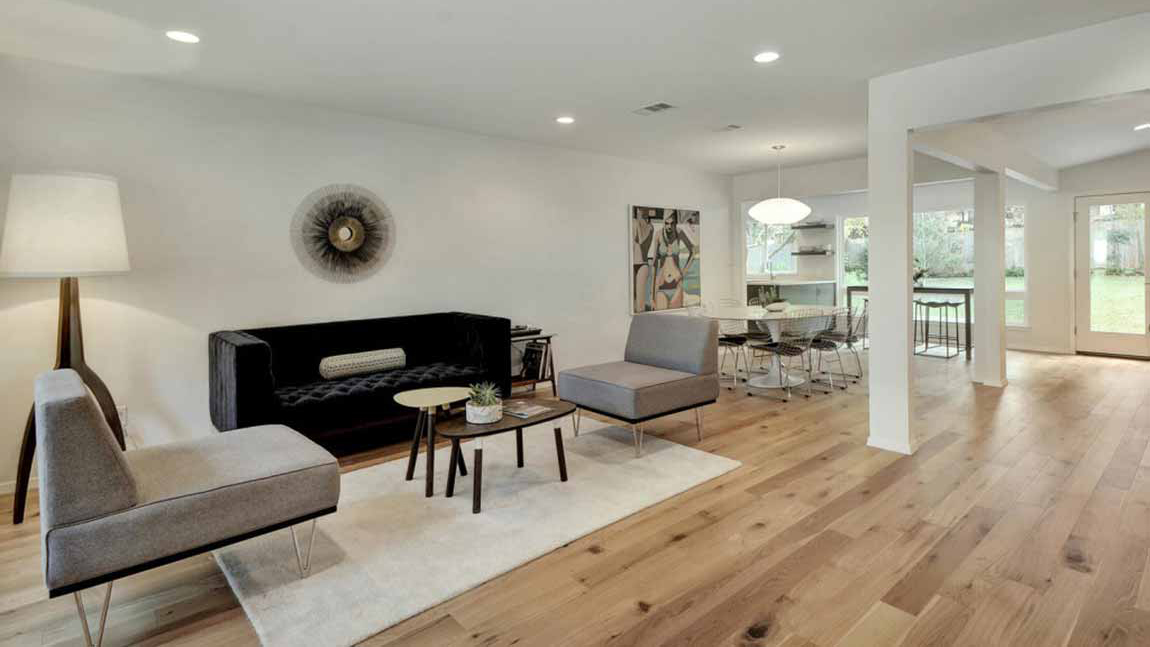 Types of Hardwood Flooring Available
Depending on your desired design and lifestyle, you may want to choose between our solid wood flooring or engineered wood flooring. Both are wonderful options for any home, but offer slightly different features that may better suit your needs. Whether you want to set a darker, moody tone or a light airy feel, we have the wood flooring options to make it happen. Discover the two types of hardwood floors we carry at our Lahaina location.
Solid Wood Floors
The highly desired flooring choice for centuries, solid wood flooring brings unmatched strength, a heightened lifespan, and timeless appeal. Choose from a variety of solid wood species, cuts, graining, stains, finishes, and installation patterns to create a one-of-a-kind look that will impress your guests.
Engineered Wood Floors
With Hawaii's humidity, some of our customers opt for engineered wood flooring. It's composed of a wood byproduct core and a thin top veneer of solid wood. This adds reliable resistance to changes in the air's moisture levels, preventing cracking or warping while still offering the beauty of hardwood.
Why Choose Hardwood for Your Home?
Many homeowners dream of the classic appeal of hardwood to add an air of sophistication to their homes. This dream can soon become a reality when you choose to upgrade your home with hardwood at Lei Flooring America. No matter your desired style, hardwood brings a variety of benefits that make your investment worthwhile.
If you are considering solid or engineered wood floors, speak with one of our team members to discuss the right choices for you. We are happy to answer any questions and make custom recommendations. We carry top-quality hardwood brands including Aquadura, Downs, Floorcraft, Spotlight, Mohawk, Shaw, and more! Discover why homeowners choose hardwood floors at Lei Flooring America:
Increases the overall value of your home

Limitless design options to match any style

Durable strength that lasts a lifetime

Ability to refinish over the lifespan of the wood flooring

Water and scratch-resistant hardwood options
Simple Hardwood Flooring Maintenance and Care
Some customers are daunted by hardwood's maintenance process, but the truth is–with regular care–keeping your wood floors looking brand new is easy. Our hardwood flooring experts will discuss proper maintenance and cleaning for your specific type of floors when you visit our showroom. Discover our best practices for hardwood flooring maintenance:
Sweep and dry mop regularly

Spot clean any spills with a clean cloth and a manufacturer-recommended floor cleaner

Use dehumidifiers to maintain proper moisture levels

Avoid scratching by adding felt pads to furniture and dirt-trapping mats at entrances

Use area rugs in spaces with high exposure to sunlight
Expert Hardwood Flooring Installations with our Professionals
What sets Lei Flooring America apart is our commitment to customer satisfaction, especially when it comes to professional hardwood flooring installations. If you want long-lasting and gorgeous-looking floors, turn to our skilled team for a swift and efficient installation. We have all the necessary tools and know-how for custom installation patterns, hand-selecting each plank for a stunning finish. Best of all, we back each hardwood floor installation with our Ultimate Confidence Guarantee. This states that you can contact us within 30 days if you are dissatisfied with your floors, and we will replace or resolve the issue at no extra cost to you. Are you ready to start your hardwood flooring renovation?
Contact us today to learn more about our hardwood flooring options! We proudly serve Lahaina, HI, and the surrounding communities.